Customers always ask How can I do more with less? This is particularly true during recessionary periods where increas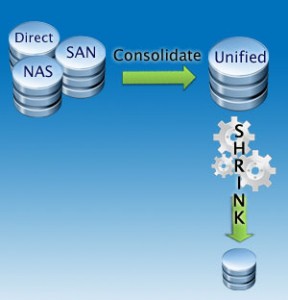 ed competition puts pressure on profit margins.  Improved technologies such as snapshot, data deduplication, and thin provisioning are now enabling IT departments to better address storage efficiency by dramatically improving utilization rates.
Additional benefits include: Minimized and backup and restore time, floor space reduction, reduced power consumption, and provisioning efficiency.
Moreover the promise of cloud computing will provide the ability to integrate management across the entire server, network and storage spectrum enabling greater efficiencies.
Indocurrent has helped many customers assess their environment and put together storage efficiency plans.  Partnering with the leading vendors in this space, Indocurrent deploys the best available solution to our clients needs.