We Focus on You
The incredible growth of data since the mid 1990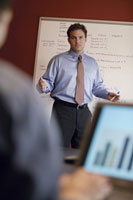 's and the related technology required to manage it, along with increased competitive and economic pressures, place ever increasing demands on client profit margins.  This pressure creates difficult obstacles for IT departments burdened with sustaining data availability and increased utilization while managing growing complexity and keeping costs at bay.
Customers have different needs and requirements and Indocurrent is here to listen. Whether a company is evaluating a new technology deployment, needs to upgrade a legacy system, or needs to optimize their existing infrastructure, Indocurrent focuses on the entire life cycle of a customer's network.
With over 20 years of experience, our certified consultants work tirelessly to deliver the solutions that fit our customers needs.